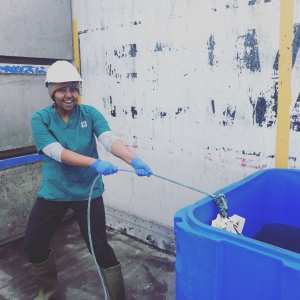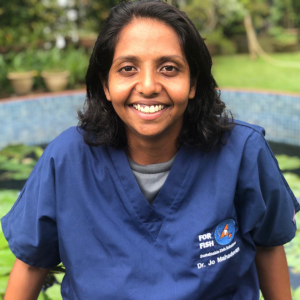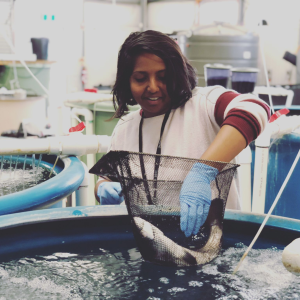 Dr. Johanna Mahadevan
Bsc (Vet Bio-Sc) DVM, Veterinarian

Dr. Jo is one of the co-founders and a primary veterinarian of For Fish Veterinary Services.  She obtained her veterinary degree from the University of Adelaide in 2015 and prior to that gained a Bachelor of Science in Veterinary Bioscience.  Upon graduating, she began her career as a small animal general practitioner where she consolidated her veterinary skills, and realised that treating ornamental fish was much more enjoyable than dogs and cats (fish don't growl or snarl).  Thankfully, in 2017, an opportunity arose for her to fully transition to working in aquatic health and research at the University of Adelaide. This new position allowed her to immerse herself in the diverse field of aquaculture working with teams in the tuna industry, oyster industry, lobster industry as well as the ornamental industry.
The lack of evidence-based information related to aquatic animal husbandry, health and care has fuelled Jo's endeavours in this field. She hopes to close some of these key gaps and provide applicable information to those involved in aquatic animal care. This goal is reflected in her research outputs including the creation of blood biochemistry panels for a myriad of aquatic species such as the southern rock lobster, the southern Bluefin tuna, the pacific oyster as well as silver perch (don't ask her how many hours she spent in the lab doing this). 
Always keen to expand her knowledge (about something other than donuts) she attended the prestigious AQUAVET II course in 2019 gaining further insight to aquatic pathology. She is currently studying (well, trying to study) to sit her Australian and New Zealand College of Veterinary Scientists membership examinations in the chapter of Medicine and Management of Aquaculture Species.
Jo has always had a passion for all animals (minus rodents) but, growing up on the tropical Malaysian coast, she developed a particularly deep interest in all marine life from a young age.  She is now happily settled in South Australia where she lives with her partner, who is coincidentally a fellow veterinarian (but of the 'normal' kind), along with a menagerie of animals, which as expected includes numerous fish.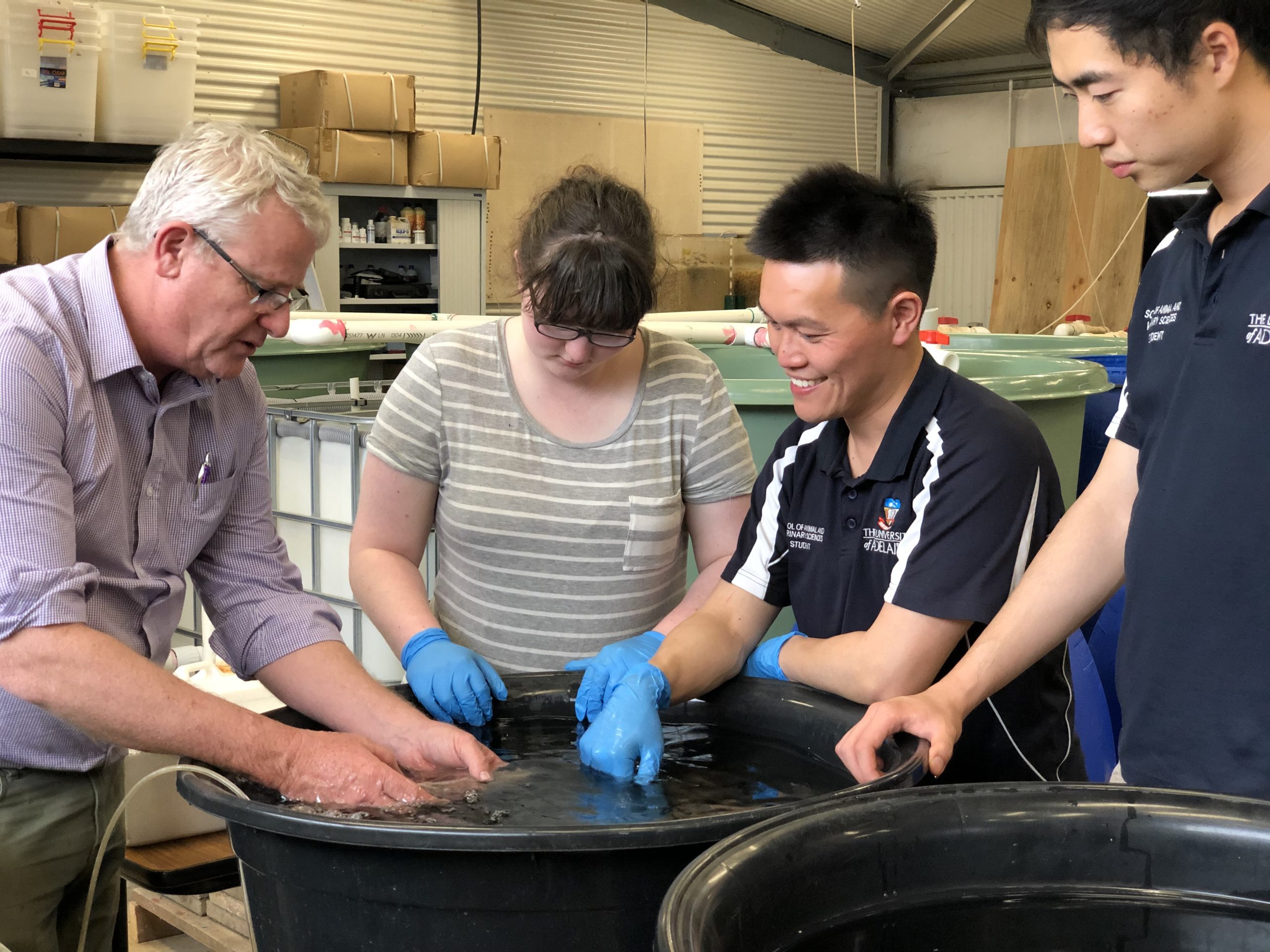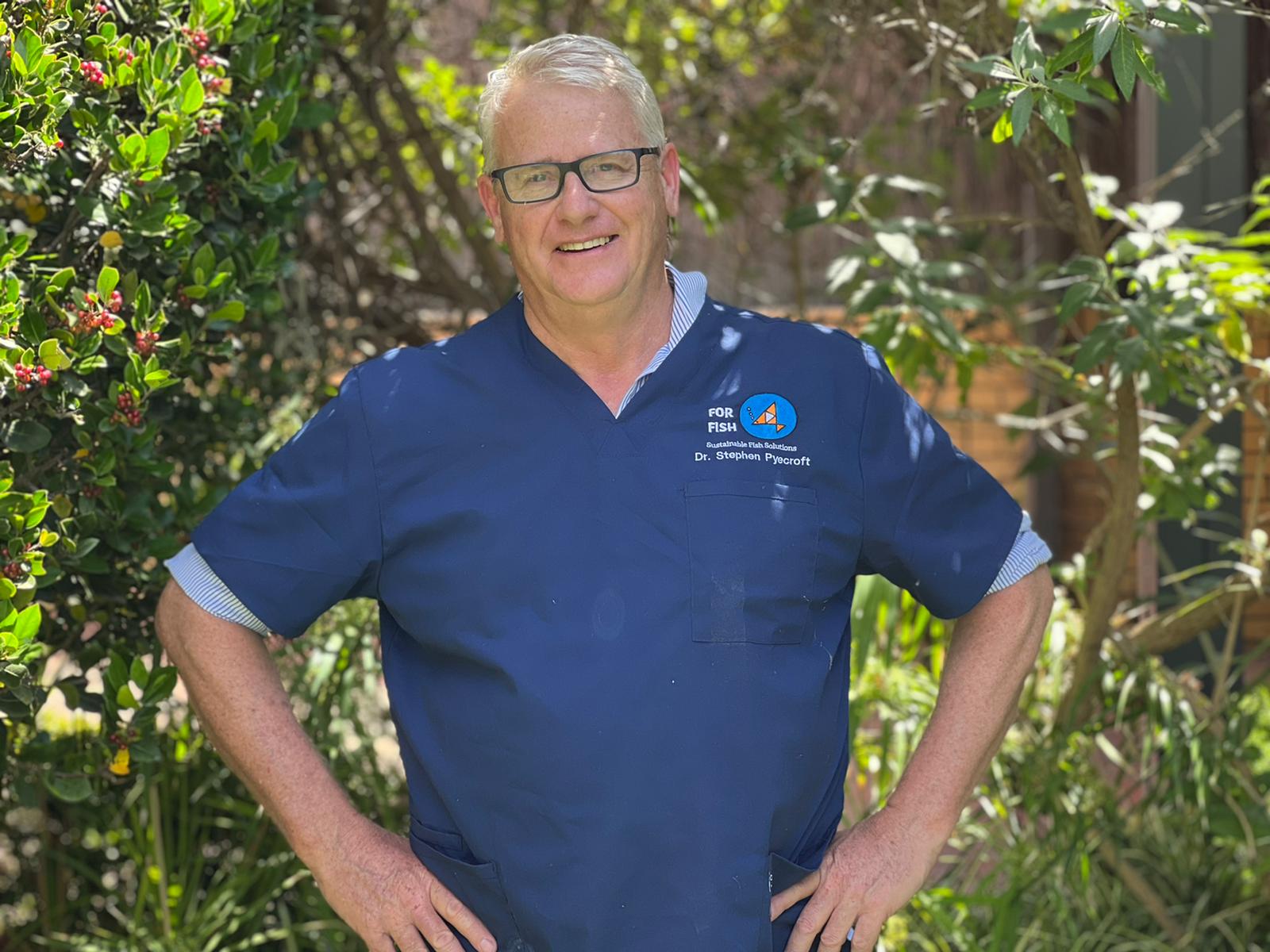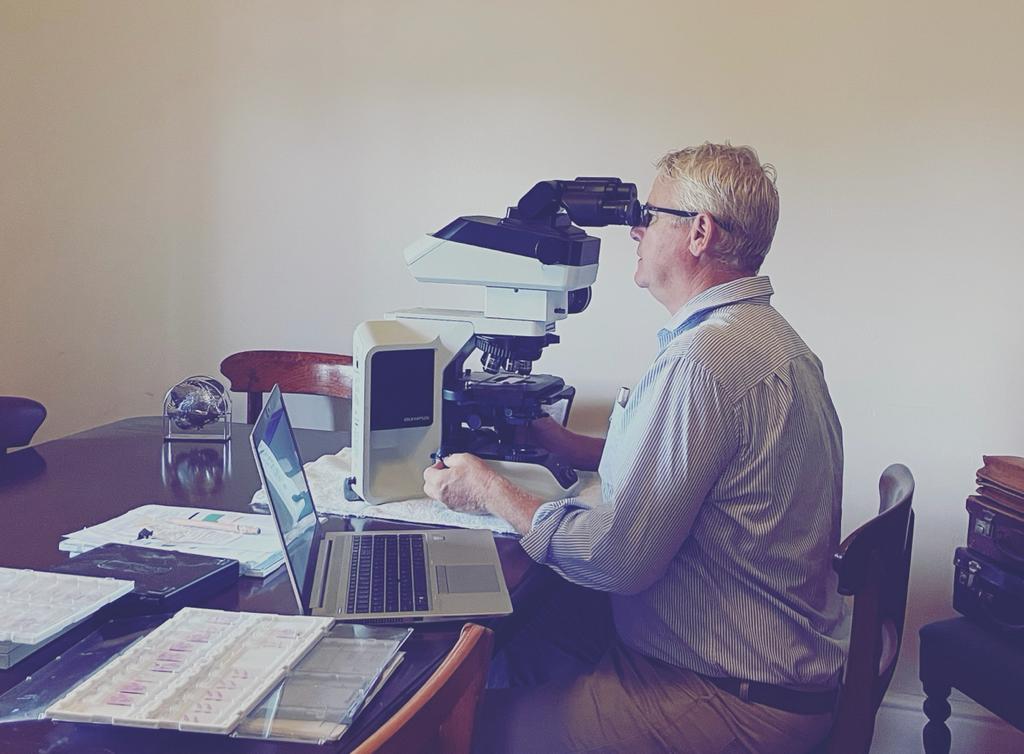 Dr. Stephen B. Pyecroft

BVSc (Hons) PhD MANZCVS – Veterinarian

Dr. Stephen is a co-founder of For Fish as well as the senior veterinary clinician. Stephen graduated from the University of Queensland with a Bachelor of Veterinary Science in 1984. He subsequently undertook Honours and PhD degrees by research in topics of aquatic animal health. Stephen has completed his membership examinations for the Australian and New Zealand College of Veterinary Scientists not only in aquatic animal health but also in animal pathology.
With many years of experience under his belt Stephen has expertise in veterinary pathology including aquatic species, aquatic animal health, management of fish kills, veterinary diagnostic laboratory management and emergency animal disease diagnosis and response.
To make a point of his overachievement in this field, he was also recently elected as a Board member at large for the World Aquatic Veterinary Medical Association representing the Asia Pacific region. He currently spends what time he has an educator of veterinary, animal science and veterinary technology students at the University of Adelaide and supervises higher degree research students in honours, and PhD research studies. Under his supervision, many of his students have participated and researched emerging and endemic aquatic animal diseases.
Stephen brings a mountain of experience to the For Fish team from his academic career as well as from life experience. He is a passionate fish hobbyist who at one point of his life went on to operate an aquarium shop. All his aquatic endeavours have provided him with firsthand experience and have contributed to him becoming one of the top aquatic veterinarians in the country, consulting for government as well as for the commercial aquaculture and ornamental fish industries.
Sustainability is an important issue to Stephen as, over the years, he has observed the changes caused by humans to our river and ocean ecosystems. He has always been driven to use his knowledge and experience to facilitate a change toward sustainable practices within the industry and this provided the incentive to found For Fish.
Stephen is always first to admit that his work life balance is tilted slightly over to the work side, however, he does enjoy spending any free moments with his children and partner, be it watching the cricket , enjoying the South Australian wine country or even experimenting on new fish diet recipes in his kitchen.